31 décembre 2012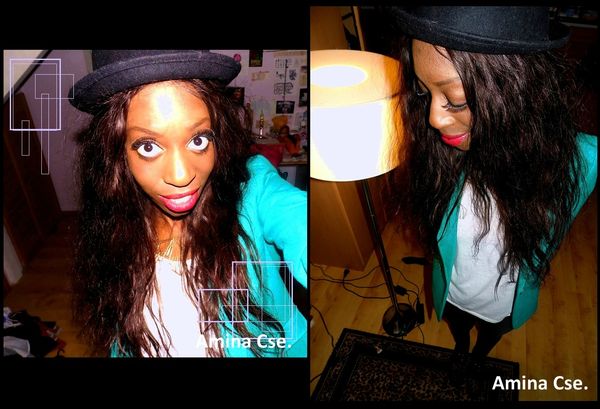 Bon, on ne va pas se leurer, tout le monde se bat les flancs des présentations. Le pire c'est quand elle dure, dure et dure. Donc on va faire bien court histoire d'arranger tout le monde.
Disons simplement que je suis une petite Bruxelloise de dix neuf ans, généreusement prénomée Amina(ta) (je déteste que l'on m'appel comme cela) et vivant actuellement au Royaume-uni (ou Angleterre pour les intimes).
Je n'aurai pas la prétention de prétendre que ce blog ait une quelconque fonction. Toutefois ce que je peux affirmer c'est que j'ai décider de laisser mes vieilles histoires dérrière moi ou sur le côté, peu importe, pour me consacrer à mes passions la MUSIQUE, la MODE et les jeux vidéos... J'aimerai profiter de ma "Foundation Year" pour répondre à quelques questions que toutes les jeunes filles de mon âge se pose.
BONNE VISITE !
FUUUUUUUUUUUUUUUUCK !
Sorry guys for this unforgivable use of the F-word but I couldn't find anything else to qualify what happened to me tonight.
I went shopping in Brussels, "Rue Neuve" today and went proper mental when I saw all these amazing clothes on sale. I'll do a "Rue Neuve Haul" video or article later to show you what I got.
So tonight I wasn't planning going out, I was just trying on the amazing foundings I made earlier in the day. When me and my sister finished, we went down to eat and watch a movie called something "Crime" with Mom. That movie was pretty deep by the way. I got back on my laptop to check my Facebook event and I remembered that there was something up in town. So I jump in the car with my brand new outfit (in which I apparently looked fierce) and speed to meet my friend.
I finally arrive, seventeen minutes later approximately, to find out that I had just missed SNOOP DOGG in person. They showed me the pictures and autographs they had. Is it useful to tell you how I feel right now?
I comfort myself by thinking that at least it wasn't Lil Wayne or WORST Machine Gun Kelly.But still it was Snoop Dogg and for once there wasn't a crowd of hysteric fans around him, just us. Well If I had been there I would have certainly been the hysteric crowd on my own.
I sat next to John Lennon to feel better.
N'oubliez pas de me dire ce que vous avez pensé de cette vidéo.